What to Know About Aerospace Sealant Shelf Life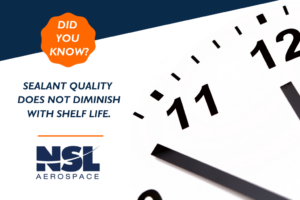 DID YOU KNOW? Low shelf life doesn't reflect product performance or quality in aviation sealants.
This is a common misconception we hear all the time. Many people are worried that by buying sealants with low shelf life, they're getting items of lesser quality that won't perform at 100 percent. That's not the case. Shelf life is just a reflection of how much time is left for a product to be used at full efficacy.
How to Calculate Sealant Shelf Life
Here's an example of how to understand shelf life in aviation sealants. Let's say you want to buy two quarts of Class A NSL 1422: Fuel Tank Sealant, an FAA-approved PMA replacement for the PPG PR-1422 sealant. It has a shelf life of nine months. This means that for nine months, the product performs at 100 percent. Even if you buy it five months after its manufacture date, you still have four months of 100 percent performance.
No one likes overages and waste. We understand that. It's one reason why we work closely with our customers to offer "just-in-time" delivery - what you want, when you want it. This means you can keep a lean inventory and work on a more as-needed basis.
Interested in Aircraft Sealants?
If you have any questions about aviation sealants, or to get a custom quote, please send us an email at sales@nslaerospace.com or call (+1) 800-527-0011. We want to work with you to meet your unique requirements.