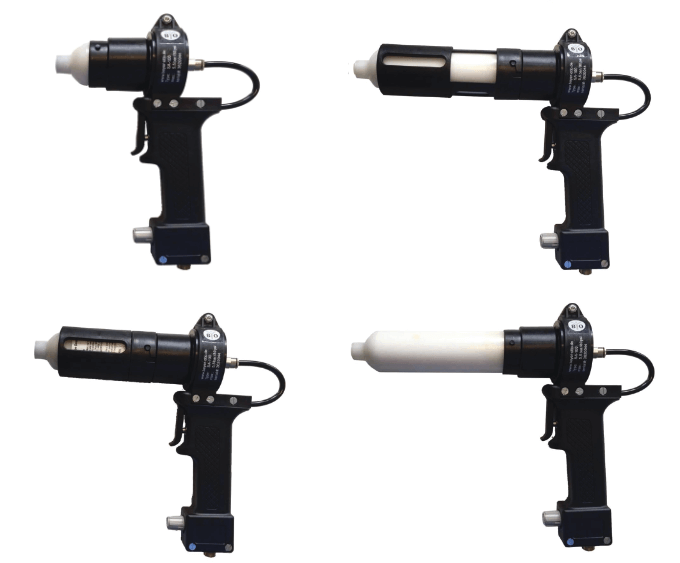 Beyer & Otto SA-100
Price is hidden.
PNEUMATIC SEALANT GUN FOR SEMKIT & TECHNON CARTRIDGES
The B&O model SA-100 is a pneumatic sealant gun manufactured for the use of Semco and Techcon cartridges. Designed with a lightweight, retractable holder system, the SA-100 does away with the standard steel tubed cartridge holders and can be used with or without the retainer.
This unique system (patent pending) only requires one cartridge holder to hold 2.5 oz, 5 oz, 6 oz, 8 oz and 12 oz cartridges. It is engineered for smooth dispensing, and the holder is designed to provide a full view of the cartridge, allowing the user to see the level of fluid inside the dispenser at all times.
This high end pneumatic sealant gun is made of polyamide 6 (PA6) with 30% fibreglass and from durable aluminium alloy. It is equipped with an integrated and adjustable pressure control (-.5-6 bar).
In addition to our sealant guns, we also have offer a variety of sealants through some of the top brands like Royal Adhesives, Flamemaster, Dapco & NSL PMA
Request a Quote
Features
One retractable retainer
Will hold 2 oz, 5 oz, 6 oz, 8 oz and 12 oz Semco and Techcon cartridges
Lightweight
Ergonomic design
Tough and durable
Integrated and adjustable pressure control (-.5-6 bar).
Engineered for smooth dispensing
Can be used with or without the retainer
Replacement parts available
Dimensions: 10 in
Weight: 1 lb
Retainer weight: .26 lb