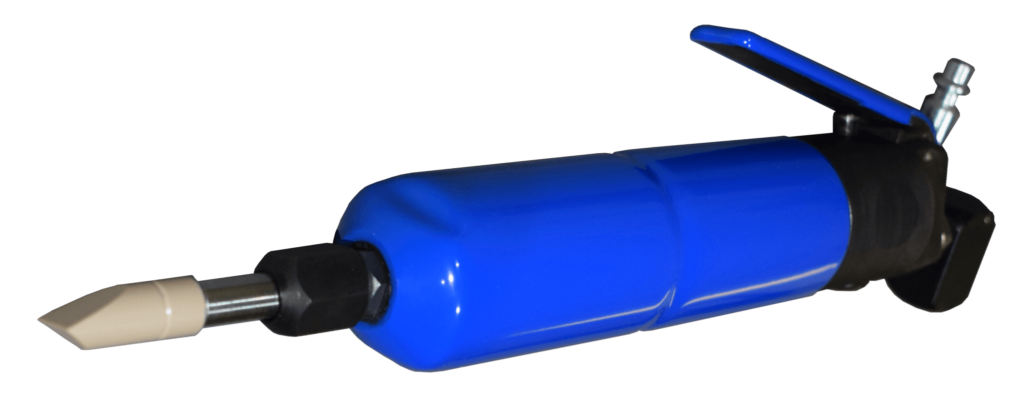 Aerowing Rapid Desealing Tool (RDS)
Price is hidden.
PNEUMATIC SEALANT REMOVAL TOOL
This pneumatic handheld tool is designed to improve the sealant removal process by significantly reducing the time and physical effort it takes to remove cured sealant from aircraft fuel tanks and other aviation parts. The RDS uses vibration technology to debond the sealant from the surface at high speed while eliminating sealant dust generation and reducing FOD. This tool is safe for use inside fuel tanks.
To remove the sealant, the RDS uses Aerowing-patented medical grade, thermoplastic tips. The tips have been tested for use on aircraft structure as well as delicate primer, and the results verify no resulting damage. These tips are specifically designed to aid sealant removal in spaces that are difficult to navigate. They include multi-angled tips, bladed and flat tips, and more.
The tool comes with interchangeable tips that can be sharpened and used multiple times. Shaft extensions are also included.
The RDS may be purchased in combination with the Manual Desealing Tool (MDS) as one unit. Find out more here.
In addition to our desealing tools and kits, we also have offer a variety of sealants through some of the top brands like Royal Adhesives, Flamemaster, Dapco & NSL PMA.
Applications

Manufacturing repairs
Fuel leak repair
NDT
Adhesive/Sticker Removal
Benefits
Reduce sealant removal time by three
Near effortless operation
Included items
1 — Rapid Desealing Tool
10 — .5" Threaded Tip
1 — 17 mm Wrench
Specifications
Pneumatic Rapid Desealing Tool
Dimensions: 15.5 in
Weight: 4 lbs
Vault Case
Dimensions: 8" x 10" x 2"
Weight: 3.33 lbs