The 2021 ACPC Conference is almost here and we'll be attending in Atlanta, Georgia. This is one of the best opportunities in the industry for networking between airline purchasing representatives and supplier company representatives. ACPC is slated for September 11 - 14, 2021, at the Atlanta Marriott Marquis.
There are many benefits of attending ACPC, both for business purposes and for social reasons. For airlines, these benefits include meeting a diverse mix of suppliers, and a lot of them! Airlines can also meet peers in the aviation industry and discuss pressing issues, problem-solving, and big ideas. This kind of experience fosters invaluable relationships, particularly after the past year-and-a-half.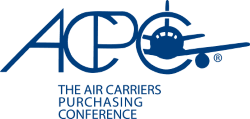 For airline suppliers attending ACPC, benefits include meeting airline representatives from around the globe, representing companies of all sizes. Suppliers can take advantage of the low conference fee as a way to introduce their business to airlines reps that might otherwise be difficult to meet due to distance and expense. Additionally, airline suppliers can meet industry colleagues and develop a sense of community.
Why We're Attending the 2021 ACPC Conference
Our Director of Business Development, Powell Simbulan, will be attending the 2021 ACPC Conference in September. We want to get to know global airline representatives and show how our NSL PMAs can potentially be a cost-saving, time-saving resource for them. Please click the button above to schedule a one-on-one with Powell.
We have built our business on good communication and solid relationships for more than 30 years. At the 2021 ACPC Conference, we hope to extend those values to face-to-face interactions and make our virtual connections real-life.
In the meantime, we want to share some PMA resources with you.
Please feel free to reach out to us with any questions before the conference, or contact Powell at (+1) 800-527-0011 or powell@nslaerospace.com. We look forward to meeting you.